Rodinia Minerals Inc. Acquires Lithium Project In Argentina
October 30, 2009
Toronto, Ontario, October 30, 2009: Rodinia Minerals Inc. ("Rodinia" or the "Company") (TSX-V: RM) has signed a letter of intent with a private party in Argentina to enter into an option agreement to acquire a 100% interest in approximately 4,500 hectares of the Salar de Salinas Grandes in the Province of Jujuy, Argentina (the "Salar de Salinas Grandes"). Previously completed studies on the brine chemistry in the acquired salar concluded lithium concentrations in excess of 400 ppm with a reported magnesium-to-lithium ratio of 3.75 (Alonso, 1999; Alonso, Jordan, Tabbutt & Vandervoort, 1991; Alonso & Viramonte, 1990). These studies and data are historical in nature and are not National Instrument 43-101 ("NI 43-101") compliant. Accordingly, such historical data should not be relied upon.
The opportunity with respect to Salar de Salinas Grandes was identified by Forbes & Manhattan, Inc., which is controlled by Stan Bharti. Mr. Bharti is also the Executive Chairman of the Company. Neither Forbes & Manhattan nor Mr. Bharti has received any compensation from the Company in connection with this transaction.
"With these grades and ratios, the Company believes this salar has the potential to be a producer. The grades are significantly higher than many of the surrounding salars, including our understanding of a pilot plant in operation at a much higher magnesium-to-lithium ratio," said David Stein, President and CEO.
Stan Bharti, Executive Chairman stated, "The Salar de Salinas Grandes comprises a total of approximately 20,000 hectares. Upon completion of the potential acquisition, Rodinia has the potential to become a significant player in one of the prime salars of the Argentina puna."
William Randall, Vice President Exploration added, "To our knowledge, the salar has never been explored for lithium at depth. However, management of the Company believes in the future production potential of the salar based on our understanding that the brines commence at depths between 0.2 metres and 3.0 metres from surface."
Figure 1 below depicts a map of the Salar de Salinas Grandes area.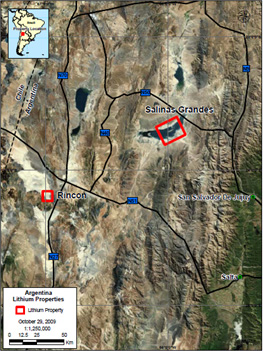 According to the terms of the letter agreement, the potential acquisition remains subject to a 30 day due diligence period, the execution of a definitive agreement and involves payments totaling US$900,000 to be paid over 2 years, with an initial payment of US$150,000 due upon signing of the definitive agreement. Completion of the acquisition remains subject to receipt of all necessary regulatory approvals.
Will Randall, P.Eng, the Vice-President of Exploration of Rodinia, a qualified person, as defined in NI 43-101 has reviewed and approved the technical information in this press release.
About Rodinia Minerals Inc.:
Rodinia Minerals Inc. is a Canadian mineral exploration company with a primary focus on lithium exploration and development in North and South America. The Company is positioned to capitalize on the explosive demand for lithium carbonate expected from the paradigm associated with the expected mass adoption and use of key lithium applications (lithium-ion batteries, glass ceramics, greases, pharmaceuticals etc.).
Rodinia is currently exploring its 100% owned, 50,440 acre Clayton Valley project in Nevada, USA. With its initial 3-hole drill program complete, the Company is actively planning and permitting an expanded 20-hole program that surrounds the only lithium brine producer in North America.
Rodinia Minerals Inc.
Please visit the Company's web site at www.rodiniaminerals.com or write us at info@rodiniaminerals.com
For further information please contact
David Stein
President & CEO
Tel: +1 (416) 861-5812
Aaron Wolfe
Vice President, Corporate Development
Tel: +1 (416) 309-2696
Cautionary Notes
Except for statements of historical fact contained herein, the information in this press release constitutes "forward-looking information" within the meaning of Canadian securities law. Such forward-looking information may be identified by words such as "plans", "proposes", "estimates", "intends", "expects", "believes", "may", "will" and include without limitation, statements regarding the impact of the potential acquisition of the Salar de Salinas Grandes; the potential of the Company's projects; the potential results and timetable for further exploration with respect to the Clayton Valley project, timetable for further exploration, analysis and development; and governmental approvals and regulation. There can be no assurance that such statements will prove to be accurate; actual results and future events could differ materially from such statements. Factors that could cause actual results to differ materially include, among others, metal prices, competition, financing risks, acquisition risks, risks inherent in the mining industry, and regulatory risks. Most of these factors are outside the control of the Company. Investors are cautioned not to put undue reliance on forward-looking information. Except as otherwise required by applicable securities statutes or regulation, the Company expressly disclaims any intent or obligation to update publicly forward-looking information, whether as a result of new information, future events or otherwise.
Neither the TSX Venture Exchange nor its Regulation Services Provider (as that term is defined in the policies of the TSX Venture Exchange) accepts responsibility for the adequacy or accuracy of this release